INTRODUCTION
The Vice President of Marketing serves as a member of the Executive Committee and Executive Board, and manages the Marketing and Recruitment team.  This team assumes responsibility for chapter recruiting, marketing, and public relations. This team incorporates philanthropy, alumnae, chapter activities, and positive public relations into the year-round chapter recruitment program.
FIRST THIRTY DAYS CHECKLIST
Log in to Pride Online and Pi Portal and make sure your contact information is correct.  If your chapter uses officer emails, update your email address with your officer title.

Begin to familiarize yourself with the content in both this and the VPM Supplemental resources

Meet as a Recruitment and Marketing team–all officers.  Discuss successes, challenges, and new ideas you'd like to incorporate in the coming months.

Analyze the success of the previous year to strategize on areas of strength and opportunities for improvement.

Contact your Marketing and Recruitment  advisor to exchange contact information, introduce yourself, and establish the best form of communication.

Contact your Marketing Director to exchange contact information, introduce yourself, and establish the best form of communication.
VPM ROLES AND RESPONSIBILITIES
Leads the Marketing and Recruitment Team in the development of the Strategic Marketing Plan, ensures it is approved by the Executive Board, and submits it to the Marketing Director.

Educates the chapter on recruitment as a year-round process and the need to continuously market the chapter.

Ensures the chapter continues efforts to reach and maintain Quota and Total, as necessary.

Communicates and evaluates progress of the Marketing and Recruitment Team to the chapter Executive Board.

Plans Marketing and Recruitment Team meetings.

Works closely with the Marketing and/or Recruitment Advisor, Vice President of Panhellenic Relations, and Marketing Director, in addition to the Marketing and Recruitment Team and Director of New Member Experience for Continuous Open Recruitment/Continuous Open Bidding efforts.

Conducts the Marketing Assessment.

Ensures the Marketing and Recruitment Team operates within the chapter budget allotment and under the financial restrictions of the campus Panhellenic Council.

Maintains communication with the Marketing Director and Marketing and Recruitment Advisor.

Member of the Recruitment Management Committee.

Ensures an effective transition for the new officer at the conclusion of the term in office.

Follows guidelines set in Alpha Delta Pi Brand Standards Guide when using Alpha Delta Pi brand, logo, or tagline.
Resources
Alpha Delta Pi Public Statement Guidance May 2021.pdf
T SHIRTS/MERCHANDISE DESIGNS AND APPROVAL
**We need text and guidelines here from MarComm
CHAPTER WEBSITES – UPDATING YOUR CONTENT
Every chapter and alumnae association of Alpha Delta Pi has access to a website to share your news and content. You have two options to choose from for a design look, and each page will have static content at the top. All you have to do is enter your chapter- or association-specific content and upload photos! Uploading your content is super easy and is all done through Pride Online. Just follow the directions below to get started. The websites are live now, so be sure to take a few minutes to complete your pages every few months! If you have any questions, please email webmaster@alphadeltapi.com, and our Information Technology team will be happy to help. 
These chapter officers and advisors have admin ability to edit chapter websites: President, VP Marketing, Director of Public Relations, Digital Marketing Specialist, VP Operations, Executive Chapter Advisor, Marketing & Recruitment Advisor. All standard association officers have admin ability to edit association websites. 
To Update Your Website Through Pride Online:
Navigate to https://prideonline.alphadeltapi.org/chapterwebsite/

. Login with your Pride Online/Pi Portal credentials if not already logged in. 

Click the link provided on the page to begin editing content for your website. NOTE: Each page will have some locked content provided by Executive Office. This locked content will be general in nature about Alpha Delta Pi. 

Expand each section to edit the content. 
General Settings: Choose your website design (click here to see available designs). Enter your Twitter account if you would like news items to load from your Twitter feed. You may manually enter a few items on this page instead of using Twitter if desired.

Footer Information: Provide a mailing address that will appear at the bottom of each page.

Social Media: Provide links for your Facebook, Twitter, and Instagram pages. 

Home Page: Use this section to include a welcome message and upload photos that appear on the home page.

About Us: Enter content for the About Us page. Optionally upload photos. 

Recruitment: Enter content for the chapter's Recruitment page. Optionally upload photos. 

Philanthropy: Enter content for the Philanthropy page. Optionally upload some photos. 

Achievements: Enter content for the Achievements page. Optionally upload photos. 

Gallery: Here you can upload up to 15 photos that will appear on the Photo Gallery page of your website. 
After you are done editing, click the "Update" button to save the information. You may repeat this process as needed to provide website content updates in the future.
BRAND GUIDELINES
During the summer of 2019, Alpha Delta Pi introduced the sorority to a new international brand with fresh colors, typefaces, prints, and symbols. When creating graphics for your social media and other marketing materials, make sure you are using the correct elements so your chapter reflects the personality of the greater organization. Do not use the Alpha Delta Pi Foundation branding unless specifically instructed to do so.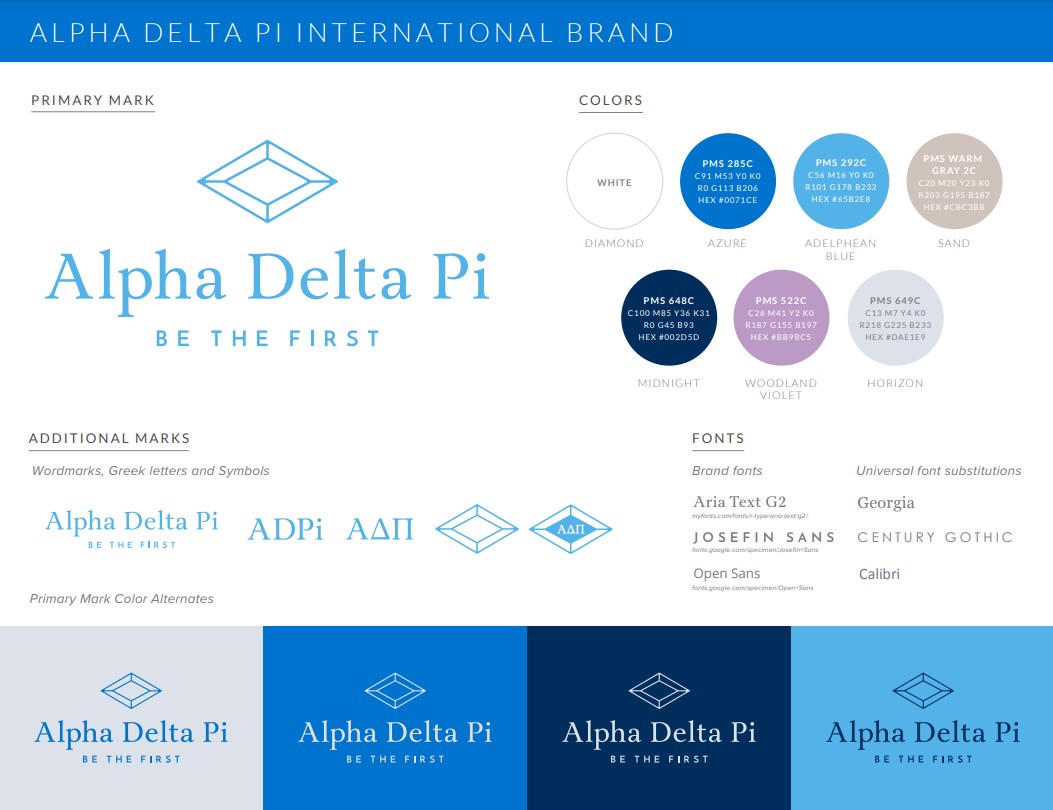 Alpha Delta Pi One Page Quick Guide.pdf
PURPOSE OF SOCIAL MEDIA MARKETING
To present the "face" of your organization to the public 
Anyone should be able to learn something about you solely from looking at your feed!

 
Communicate messages in an engaging way 

Connect with people beyond your organization 

(From Investopedia.com) "Social media marketing provides companies with a way to engage with existing customers and reach new ones while allowing them to promote their desired culture, mission, and tone. Social media marketing has purpose-built data analytics tools that allow marketers to track the success of their efforts." 

(also from Investopedia.com) Five Key Pillars of SMM – strategy, planning and publishing, listening and engagement, analytics and reporting, and advertising

  
POSTING TIPS AND TRICKS
Post eye-catching photos that clearly display or explain the purpose of your post 

If you are promoting a sisterhood, post pictures of sisters together! Individual photos should only be used in the context of highlighting an individual (exec, Alpha, member, alumna highlights) 

Faceless photos that @alphadeltapi or other ADPi's post are acceptable and encouraged to be recycled (work smarter, not harder) 

Hashtags help your chapter's social media appear in searches and on the explore page. They help to maximize your impressions and engagement, too. ADPi branded hashtags include #BeTheFirst, #ADPi, #AlphaDeltaPi, #ADPiAlumnae, #WLFEO, #WLFEOWednesday 

Including calls-to-action like "tag a sis" also encourage post impressions and engagement 
THE SOCIAL MEDIA CALENDAR
The Social Media Marketing calendar in Pride Online is the new form of "Marketing Books" to streamline the communication process, allow for quick and easy access to suggested posts each month, and to move the organization toward uniformity in its daily messaging. 
In addition to holidays, these posts typically highlight a few of our sub-brands. These sub-brands include but are not limited to Leadership, Panhellenic, Scholarship, Housing, Recruitment, Sisterhood, Service, Alumnae Relations, Diversity, Equity, and Inclusion, and Why ADPi. This helps make our brand and messaging more uniform while promoting all areas of ADPi. Your story highlights on Instagram could also all fit into these categories.
A sub-brand is a part of brand architecture and contributes to the structure of an organizational entity. It is the way brands within a company's portfolio are related, differentiated, and highlighted when appropriate. Alpha Delta Pi strives to promote a variety of facets of our organization to our external publics in accord with one another.
Disclaimer: These posts are messaging directions on specific days. More posts can and should be shared beyond the ones recommended in this calendar. This is not an exclusive list of only when and what you should be posting.
GRAPHICS 101
Graphics are a great way to show creativity, include trends, and spice up your social media profiles. However, they're also not a free-for-all.  

Graphics should (for the most part, but not always) follow the brand guidelines of Alpha Delta Pi.  

You can use Canva, Adobe, or other various applications to create great graphics 

If graphics are included in your social media feed, we ask that they are clean and follow the flow/aesthetic of your feed. If the graphics are stories, more flexibility is allowed and encouraged.  

Any social media graphics can be taken (screenshotted or saved) directly from the @alphadeltapi account. If any additional graphics are needed, the marketing team should be making these themselves.  

Resources
Happy Founders' Day Graphics
Social Media Graphics Suggestions 
IMPRESSIONS WORKSHOPS
Impressions are constantly made.  Regardless of whether we like it, the fact remains, so we must be aware of the impression that we create for Alpha Delta Pi.  When an introduction is first made, an impression is created.  When one is introduced to an organization, an impression is made.  Often meeting an individual creates an impression of the group.  It is critical for a chapter to understand how the chapter is perceived and if it is the desired impression, as well as an accurate one.
The purpose of this workshop is not to tell you what the impression of Alpha Delta Pi should be, but rather to assist you with identifying what the impression of your chapter is.  More specifically, this is to assist you understand when recruiting new members, through primary recruitment or COR, what impression you give to the potential new members.  This workshop should take 45 minutes to 1 hour.
Break into groups to discuss the following questions.  Have the groups spend about 10 minutes discussing and then have the group leader present the ideas shared.
Which did you identify with first, Sorority life or Alpha Delta Pi?

What was your first impression of Alpha Delta Pi?

Was it based on the specific individual you met or the reputation of the sisterhood that you were familiar with?

How did your first impression of Alpha Delta Pi affect your decision to join?
After each group has briefly shared the answers to the above questions, have the groups discuss the following questions, spending about 10 minutes again.
How can you use the information learned to enhance recruitment?

Has your chapter been giving the "right" impression (right is defined to be what the chapter desires it's impression/reputation to be)?

What type of impression would you want an individual to leave with after meeting a sister individually or the chapter as a whole?
Again have the group leader present the summarized ideas to the chapter.
Closing to the chapter:  It is critical for the chapter to understand how it is presenting itself to potential new members. Whether it is a soft drink trying to market to teenagers, or a cereal brand trying to market to children with the free prize, they have an in-depth understanding of how their product is perceived by their target market.  To meet up with success in recruiting, a chapter must understand its target market, as well as how those individuals perceive them.
Have all the group leaders present the summary of the questions to the VPM.  The VPM should then create a summary of the workshop to share with the chapter.  This should be reviewed during Spirit Week and incorporated in your Recruitment Plan.
Resources
Digital and Campus Marketing Resources 2023.pdf