GENERAL MARKETING REMINDERS
Our colors are blue and white! Show this in your social media profiles to create brand recognition and unity to Alpha Delta Pi as a whole. 

If you're going to use the word "girls", please use "women" instead 

Being a member of Alpha Delta Pi is forever. No member "was" an ADPi unless they revoked their membership. After graduation, still refer to sisters as "she

is

an ADPi" 

Our slogan is now "Be The First" not "First. Finest. Forever." This should never be used anymore.  

The new logo should be used anywhere that the old logo still exists (i.e. flyers, tabling materials, t-shirts) 

The diamond symbol should never be used vertically or distorted, and the 5-point diamond should never be used in branding 
ANATOMY OF AN INSTAGRAM ACCOUNT
Profile photo using brand colors and fonts. 

Make sure your account is a business account to track analytics 

Use Linktree to link multiple sites at once 

Highlight covers to share fun pictures, videos, and news

using brand colors and fonts

 

Bio should include your college/university name, chapter, branded hashtags (#BeTheFirst) and location of the chapter house (if applicable) 

Example: @msuadpi | Mississippi State University | Epsilon Eta 

Contact info added so people inside and outside of your organization can reach you 

Graphi

cs in the feed used to easily share messaging using brand colors and fonts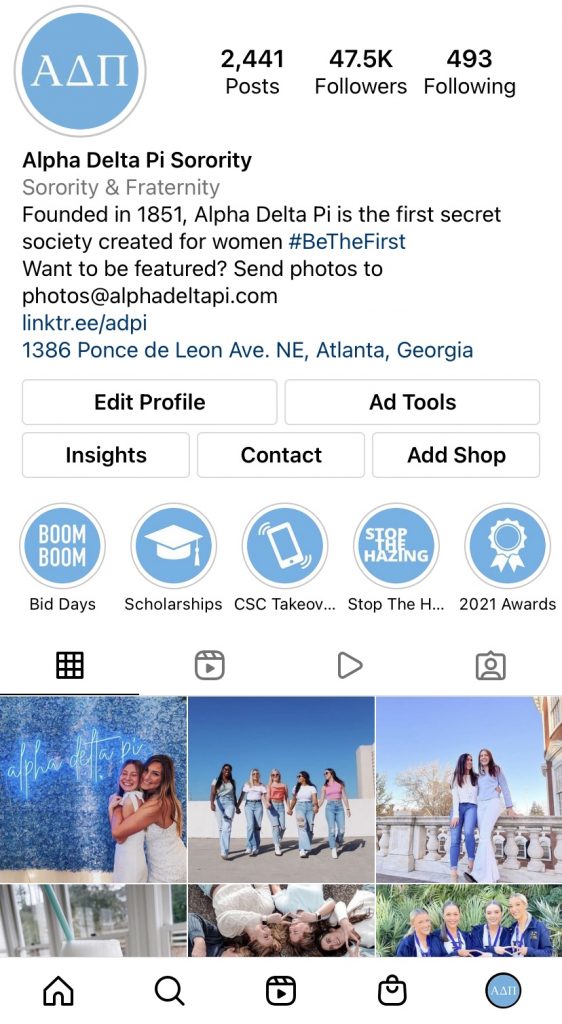 ANATOMY OF A FACEBOOK PAGE 
Profile photo that matches your other social accounts. Share your Instagram stories to your Facebook as well. 

Cover photo with brand colors and fonts or a chapter image 

Use appropriate hashtags and shorten links using Bit.ly so they don't take up extra text space 

Add contact information and chapter websites so those inside and outside of your chapter can reach you 

Posts should have 3-4 lines of text and at least one image to grab the attention of your followers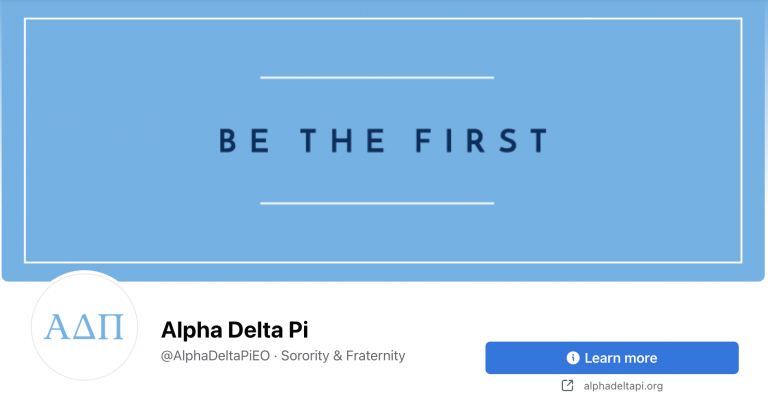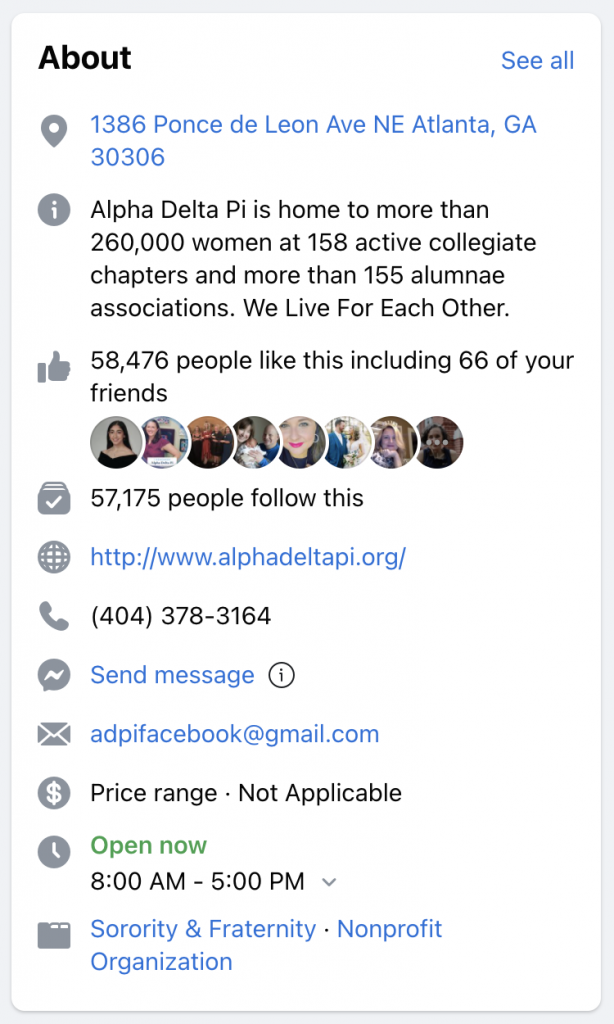 INSTAGRAM AND FACEBOOK – WHO, WHAT, WHY?
All your posts should promote the four core values of Alpha Delta Pi while incorporating your chapter's unique personality. Sisterhood, scholarship, service, and self should all be present on your social media platforms. Alumnae, campus involvement, community leadership, and philanthropy efforts as well as Panhellenic relations should all be represented as well.  
Instagram
Audience: younger audience; current members, alumnae, potential new members, and the general public 

Tone: fun and informative but with your added personality  
Content: a display of who your members are and what your chapter is, showcasing the four values with your chapter's personality  

Frequency: 3-4 times a week 
Facebook
Audience: a little older audience; mainly current members and alumnae 

Tone: more informative with proper sorority language 
Content: what your chapter has been up to or is currently doing 

Frequency: 1-2 times a week 
Note: Twitter, Pinterest, TikTok, and other social media platforms may be used per the chapter's individual decision, but continue to consider the appropriate audience, tone, and content. 
HOLIDAYS
Holidays and festive days for multiple ethnicities and religions can and should be recognized following the example of the international social media. 

The means by which you recognize these holidays is up to you, but graphics and/or mirrored language from @alphadeltapi are encouraged.  
 
MARKETING TO EXTERNAL GROUPS (ALUMNAE, PARENTS, CAMPUS, COMMUNITY)
Your audience is not just your members, and your marketing is not just social media

 

Social media is for potential new members, parents, alumnae, campus partners, and community members 

Marketing is everything from tabling, wearing ADPi t-shirts around campus, wearing buttons on game days, putting posters about an event around campus and engaging on social media 

Keep this in mind as you can always market ADPi around your community, and you are always representing something bigger than yourself  

MARKETING WITH RMHC
The RMHC logo should never be recolored, distorted, or using in an improper variation of the logo as stated in the

RMHC + ADPi brand guidelines

 

Ronald McDonald House Charities (RMHC) refers to the organization as a whole. Ronald McDonald House (RMH) refers to the physical house in your community. Use the correct acronym/name when appropriate.  

Their slogan is now "Keeping Families Close", not "The House that Love Built", so use only the proper slogan and do not alter the wording.  

RMHC colors are red, yellow, black, and blue. Do not add or change their color palette in t-shirts, banners, etc..  

If you have specific questions about the use of the RMHC brand, ask your local RMH
TAKEOVERS
What is an Instagram Takeover? Buffer.com defines an Instagram takeover as the process of taking over someone else's Instagram account temporarily and sharing content with their audience. Instagram takeovers are an incredible way for brands, individuals, and influencers to collaborate and cross-promote content. 
Before you do an IG takeover: 
Ask yourself WHY? Who are you talking to? 

What perspective will the interviewee be showing your audience? Can that information be shared in an infographic or post? If so, you don't need to do a takeover. 

Only if what you're showing is happening LIVE – like a philanthropy event or campus tradition – or is covering a specific perspective that can only be told through video should you use video in your takeover. 
Best Practices: 
You can give out passwords or change them before the takeover. If you want the content to be approved beforehand, ask the takeover sister to record herself on her own account/camera and send the content to the Digital Media Specialist to post. 

Make sure your takeovers have a point. "A day in the life of an ADPi" is less versatile than "A day in the life of our sister who is a nursing student or student government president, or resident advisor." You should have unique content making the takeover compelling. You want to SHOW something. 

Always have the takeover sister tie back her content for the day into one of the following: sisterhood, scholarship, service, self-improvement 

If you're going to do an "Ask Me Anything" question box, ask your chapter sisters to have pre-decided questions so there is something for the takeover sister to answer! If one of the questions is "Why ADPi?", encourage the sister to think about it before answering. Everyone says, "I just felt it" or "They were the nicest girls", and we LOVE that and hope it's true. But the way you hook an audience is being genuine and thoughtful in your answers. Why did you feel it? Why did ADPi outshine the other girls?  

Avoid inside jokes or content that takes previous knowledge to understand. Remember, every time you use your social media, you are communicating to an audience who knows nothing about ADPi! Takeovers should teach people something about ADPi. 
AT HOME VIDEO GUIDE
Nowadays anyone can film a great video at home. No need for fancy cameras or equipment, an Iphone and some nice lighting works just as well. Here are some tips on how you can get great video at home.
You will need:
A phone with good filming capabilities

A flat surface with a place to put your phone on

A room with natural light
Prepare:
Before you even begin filming make sure that you find the best place for film.

A good idea for this would be to find a quiet room with a lot of natural window light, but make sure that there is no direct sunlight. A large window in the afternoon would work great.

Make sure that the background is clean and free from distractions. However, don't just film on a blank wall. A background with a few things in the back is okay. Maybe a bookshelf with items on it, a plant in the back, or some photos hanging on the wall. The important thing is that the background looks clean.

Take some test shots and send them in for approval.

At this time check to make sure that you have plenty of storage on your phone. Videos take up quite a bit of space and it's frustrating when you have to clear off storage in the middle of recording, so check beforehand.
Set up:
Once you have the best lighting and location to film the video it's time to set up.

The first thing that you want to do is set yourself facing the window with the natural light. I would recommend standing for the shot rather than sitting in a chair. However, if you do want to use a chair make sure that it is not seen in the video, a stool chair would be great for this.

Then you want to position the phone with the back camera facing you (no front facing cameras, please!), between you and the window. When placing your phone, make sure that it is directly at eye level. Too low and you will be looking down on the camera, and too high you will be having to look up. Right at eye level is the most comfortable place to shoot.

Now we get into composition. This might be hard to do yourself since you are the subject and can't see the screen of the phone, so have someone come in and help with this part. When composting the shot, follow the rule of thirds.

The rule of thirds is the specific placement of a subject on points on a grid. This grid has four points made up of the three vertical and three horizontal lines. Place yourself on either the right, left or center of this grid. Most importantly make sure that your eyes line up with the top line. You also want to make sure that you have some room above your head and the top of the video. You should position yourself to film from your chest up

To add a grid to your video on an iPhone go to settings—camera—grid.

A great example of this would be Paola Carrera. She is perfectly framed in the video with her eyes exactly on the top line. She is well lit from natural light, and her background looks very clean and free from distractions.

Filming:
Once you have everything set up correctly it's time to record your video.
Make sure you know what you are going to say, speak loudly and clearly, and be sure you look directly at the camera when you talk.

You might find it helpful to download a teleprompter app on your phone or laptop to help with reading off your lines. That being said, try to memorize your lines as much as you can. It is perfectly okay to take breaks in between sentences and record it as many times as possible.
Additional Points:
If you have a camera and are comfortable using that instead of your phone, we encourage you to use that.
RESOURCES
Perceptions and Reputation.docx.pdf
Marketing Minutes – **do these need to be moved over from current POL content (in Marketing folder)