Alpha Delta Pi Executive Office
Executive Office is located in Atlanta, Georgia, and is the international headquarters of the sorority.
There is a full-time staff that makes up the Executive Office Team. The staff at Executive Office provides support, services, and resources to collegian and alumnae members, as well as chapters, alumnae associations, and house corporations. The staff, led by an Executive Director, includes teams that oversee Membership which includes Alumnae and Volunteer Engagement, Education and Programs, and Collegiate Services; Marketing and Communications which also includes Information Technology and Archives; and Operations which includes Finance and Housing. Executive Office is also home to the Alpha Delta Pi Foundation.
Click here to learn more about Alpha Delta Pi's staff structure.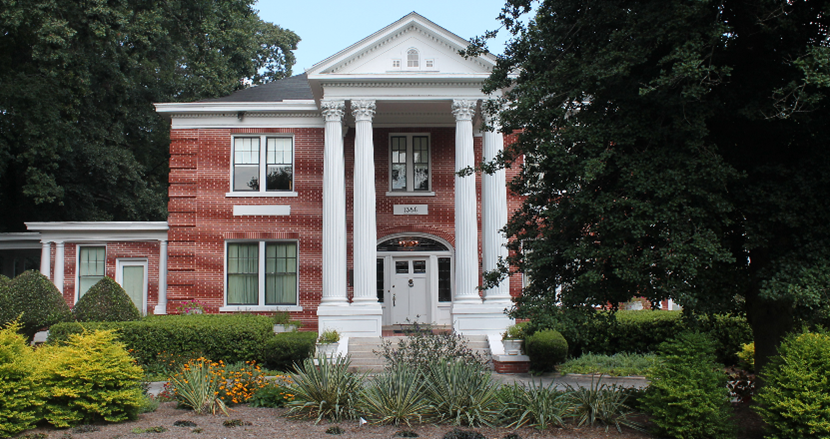 Alpha Delta Pi's Memorial Headquarters
Alpha Delta Pi Volunteer Structure
Working in partnership with Executive Office staff, Alpha Delta Pi has an expansive volunteer family. Alpha Delta Pi volunteers include:
Grand Council – Elected by a vote of the delegates to Grand Convention, Grand Council is the organization's Board of Directors made of an International President and six International Vice Presidents. The Executive Director serves as an ex-officio member.
Strategic Leadership Team (SLT) – The Strategic Leadership Team includes both alumnae volunteers and Executive Office staff members. Grand Council, District Team Directors, Programming Director Chairs, the Chief Panhellenic Officer, the Diversity & Inclusion Committee Chair, Ritual, History, and Heritage Director Chair, Foundation President, Philanthropy Director Chair, and the Executive Office Leadership Team are members of the Strategic Leadership Team. SLT meets on a regular basis as determined by Grand Council to assess trends in the organization and on campuses and serves as the principal implementation body for Alpha Delta Pi operating procedures. Between meetings, Strategic Leadership Team members work together and in partnership with Executive Office staff members to achieve the sorority's priorities.
International Officers – Alpha Delta Pi is divided into four districts based on locations: Central, Northern, Southern and Western. Each district is led by a District Team Director (DTD) who is a volunteer and a Collegiate Services Specialist (CSS) who is a member of Executive Office Staff. The DTDs then oversee a team of Collegiate Province Directors who work with specific chapters and Programming Directors who work with specific functional areas of the organization. Collectively, we refer to these alumnae volunteers as International Officers.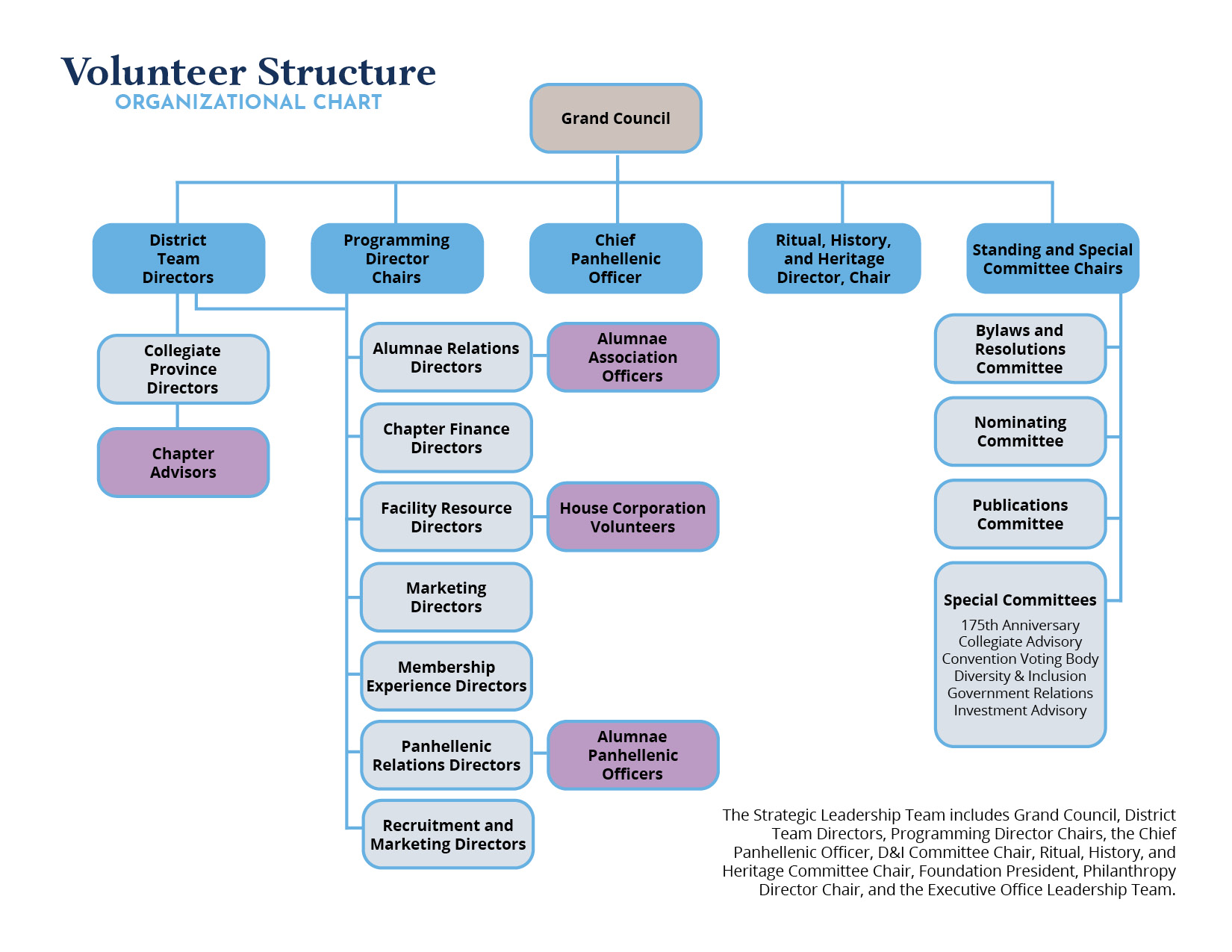 Alumnae Association Officers – Alumnae volunteers who oversee the operations, membership, programming and events of a geographic or chapter alumnae association.
House Corporation Officers – Alumnae volunteers managing the operations for an Alpha Delta Pi facility.
Standing and Special Committees – Grand Council may appoint alumnae volunteers and collegians to serve on additional standing or special committees.
Alpha Delta Pi District Structure
Alpha Delta Pi chapters, alumnae associations, and house corporations are organized within geographical districts (Central, Northern, Southern, Western).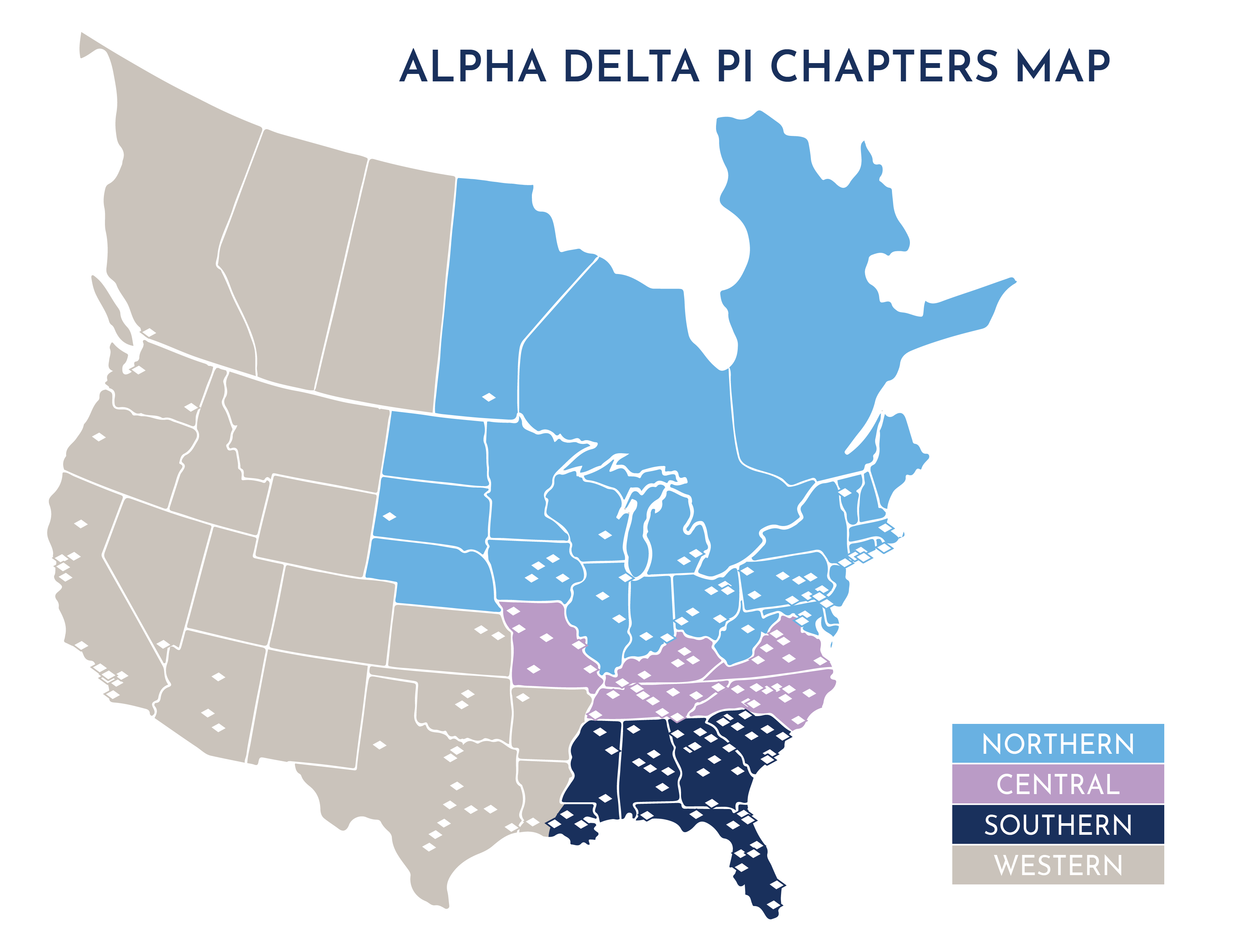 Each District is comprised of two Regions (Region A and B) with Areas in each Region (Area 1, Area 2, Area 3, Area 4). Each Area includes three to four Provinces with two to four collegiate chapters in each Province. Click here to view the District Team Quick Reference Guide for a more detailed view of the district structure and volunteers and staff members supporting each district.